Fujifilm acquires CE mark and launches CAD EYE, a function of colonic polyp detection utilizing AI technology, in Europe
Düsseldorf, February 25th 2020 - FUJIFILM Europe GmbH will launch a new function known as "CAD EYE," which was developed by FUJIFILM Corporation to support real time detection of colonic polyps during colonoscopy utilizing AI technology (*1). CAD EYE's functionality will be available with software EW10-EC01 and the compatible expansion unit EX-1 in combination with the Fujifilm ELUXEO 7000 system. Fujifilm has already acquired CE mark for this new software EW10-EC01 and it will be launched with EX-1 in March 2020.
"I am very pleased to announce the launch of the CAD EYE Detection function. I am convinced that with this new development, we will achieve our vision of reducing the incidence of colorectal cancers and patient mortality whilst lowering the economic burden associated with the management and aftercare that results from this devastating disease,"  says Mr. Takakazu Sakashita, Senior Vice President FUJIFILM Europe GmbH Medical Systems Division. "CAD EYE utilizes Fujifilm's medical Artificial Intelligence technology REiLI. Fujifilm has a highly capable image processing R&D organisation and through this powerful technological heritage, we have been able to quickly develop new solutions that meet the real needs of our global customers."
"CAD EYE has been trained with a powerful super-computer located in Fujifilm's global AI technology centre in Tokyo, utilising an immense amount of clinical images using Fujifilm endoscopy systems." says Takemasa Kojima, Vice President FUJIFILM Europe GmbH Head of Sales and Marketing Endoscopy System. "This ensures that CAD EYE is a customised detection support compatible with the ELUXEO system. It is user-friendly, simple and intuitive: an excellent and effective support tool during long hours in the examination room aimed to improve lesion detection in the colon at expert level."
CAD EYE Detection is automatically activated when observing with White Light or LCI mode to support real-time lesion detection (*2). A user-friendly interface has been pursued for ease of use and simplicity, which does not interfere with the endoscopic image, and minimises operators' eye movement.
When a suspicious polyp is detected within the endoscopic image, a Detection Box indicates the area where the suspicious polyp has been detected, and a Visual Assist Circle illuminates in the vicinity. Additionally a sound is heard when a suspicious polyp is detected.
(CAD EYE Detection)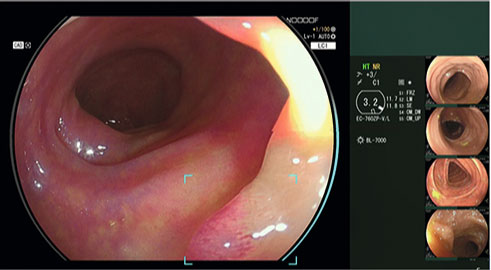 discover more: https://www.fujifilm.eu/eu/products/medical-systems/endoscopy